The Weekly Wolf
I spent six years living with the wolves of Mission:Wolf.
Each Monday, this page will feature a new photograph and story of these wolves.
---
March 29, 2010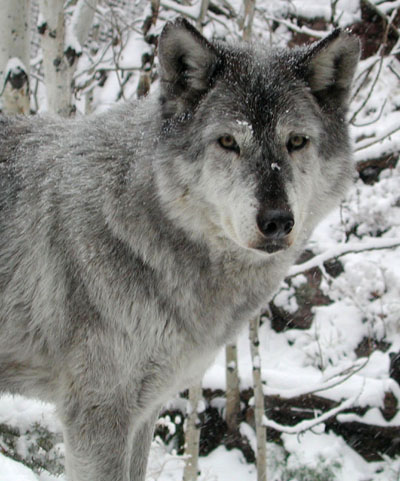 Hina
In the Spring of 1992, Mission:Wolf received a call from a Montana wolf breeder about rescuing three pups that were to be euthanized if no home was found. Hearing the plight of these animals, Mission:Wolf staff pooled their personal funds for gas money and food. Two dedicated volunteers then set off for Montana the next day. They returned to the refuge with three timid black puppies who had brilliant wild eyes. Hina, the shyest of the three, was given her name by a young visitor from Hawaii, after the Hawaiian silver moon goddess.
Hina and her siblings, Bowdi and Jazmine, were raised in Mission:Wolf main pack. Cyndar, the alpha female, adopted them along with four other pups we had taken in that year. The energy of seven pups would wind up all of the wolves at the refuge and their pack quickly became known as the "action pack." While some of the other puppies traveled with the Ambassador program, Hina remained behind at the refuge. She could never quite work up the courage to greet visitors.
As time went by and the pups grew up, the pack had to be split apart due to social conflicts. Hina moved next door to the main pack with her sister, Jazmine, and a young male named Fenris. Breeding season came and went, with no one worrying about pups because Fenris has received a vasectomy the year before. Needless to say, everyone was shocked when first Jazmine, then Hina, walked out of their dens followed by pups! We can only guess that Fenris' vasectomy failed. Hina was now the proud mother of five pups: Lily, Gizmo, Polar Bear, Beorn and Skinwalker.
Sadly, in the second attempt at giving Fenris a vasectomy, there were unexplained complications and he passed away. Hina was then paired with a small, yet playful male wolf named Obediah. They spent years happily lounging in their enclosure together. Neither one could work up the courage to greet visitors alone, but together they would sneak up behind a tour and quietly peer through the fence. Hina was always very self-possessed and confident as long as Obediah was close by.
As she aged, Hina grew into her silver moon goddess name more and more by turning silver in color. While she outlived all five of her pups, Hina finally passed away from old age on February 20, 2008. She remained a truly wild wolf to the end, always preferring the company of other wolves to human companionship.
---
March 22, 2010
Obediah
Obediah, affectionately known as "Obi-one Kanobi" and "Obi," was a black male wolf born in April of 1993 to Nikkolah and Raven, two Mission:Wolf residents. Much to our surprise, Nikkolah had climbed to the top of the fence separating him from the females during breeding season and jumped over to mate with Raven. Of the six pups in his litter, Obi was probably the most reserved around people. While he was very playful around other wolves, Obediah was known for curiously sneaking up behind a tour group while they were looking at another enclosure and then quickly slipping away as soon as someone noticed he was there.
Obi spent his first three years living with his parents and a few other young wolves. However, as the youngsters hit maturity and started challenging the older wolves for leadership, the large pack had to be broken up. Obediah and a huge female wolf named Hina were moved into the steep ravine enclosure next to their old pack-mates. They quickly became great friends and were rarely found far from one another. Obediah adored Hina so much that whenever he caught a magpie, he offered it to her before eating it himself.
After Hina passed away in February 2008, Obediah started looking to humans for companionship for the first time. We often found him eagerly awaiting tour groups instead of trotting off into the trees. After a few months on his own, Obi even welcomed a few staff members into his enclosure for quick visits. It didn't take long for the now ancient Obi to become a crowd favorite. This picture was taken during that summer, when Obi won everyone's heart. Then, as the flow of visitors ebbed with the coming of fall, Obediah started going down hill. His old age was finally catching up to him. Sadly, in December of 2008, Obi passed away. Even though he's gone, I still expect to hear his unusual siren-like howl whenever the wolves take up their call.
---
March 15, 2010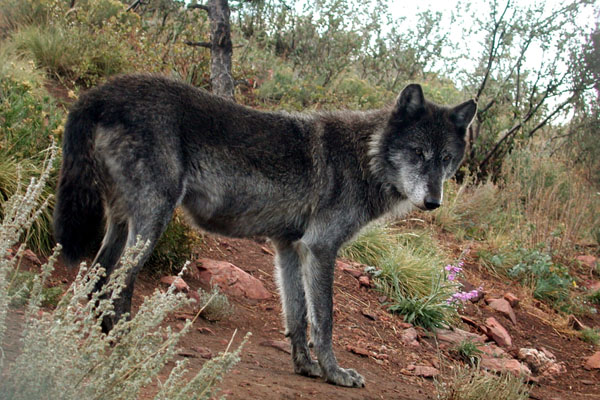 Kestrel
Kestrel was one of five pups in her litter unexpectedly born at Mission:Wolf on April 11, 1995. Her father had received a vasectomy two years prior, so imagine our surprise when her mother, Jazmine, gave birth.
Kestrel was raised with three wolves named Lily, Gizmo and Polar Bear. However, when they reached three years old, Lily, the alpha female, kicked little Kestrel out of the pack. In hopes of finding Kestrel a more amicable companion, the staff introduced her to a large male wolf named Zephyr in his 12 acre enclosure on top of Mission:Wolf's ridge. They quickly bonded and spent years living together peacefully. Kestrel's favorite hobby was to stalk Lily and prance around showing off that she now had a boy of her own and a larger enclosure that Lily. During these displays, Kestrel was known for hitting speeds of 35 mph with all four feet off of the ground.
When Zephyr passed away at the age of 15, Kestrel was placed with her puppy-hood playmate, Polar Bear. She was overjoyed to be reunited with him and the two were soon showing off to Lily together. Unfortunately, just a few years later, Polar Bear also passed away from old age. She then moved down the Mission:Wolf hill into an enclosure with Aspen, a large male wolf who had also lost his mate.
In her thirteenth year, Kestrel was graying with age but she was still mostly black and had bright yellow eyes. Although she was always wary around strangers, she enthusiastically greeted the people she knew and trusted. Tiny little Kestrel, the wildest and shyest of Mission:Wolf's residents, finally started to gain some self-confidence while living with Aspen. She even occasionally came up to see visitors when they brought down her daily feeding.
In August of 2008, Kestrel passed away from old age. Up at the wolf graveyard, hundreds of brilliant Indian paintbrush flowers were blooming. As we placed the last rock on Kestrel's grave a huge thunderstorm moved through the valley and chased everyone down the hill with lightening. Known for her sense of humor and mischief, little Kestrel was probably looking down on us and laughing as we stumbled through the aspen forest. I can't help but think that she's now running around as fast as she can somewhere, playing with Zephyr and Polar Bear.
---
March 8, 2010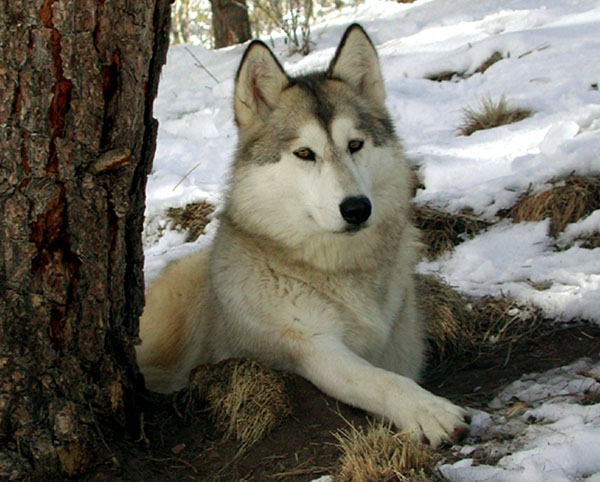 Aurora
Aurora was born in March of 2001 in Vermont. She spent her early life free-running through the woods but was found one day collapsed in the woods, exhausted and bleeding from multiple gunshot wounds. Discovered by kind people, she was nursed back to health and now lives atop three legs. Missing a front leg sounds daunting, but this does not seem to slow Aurora down. She is a successful escape artist and hunter. Eventually, her hunting skills got Aurora in trouble when she killed a neighbor's turkeys. Her owners apologized, paid for the turkeys, and vowed to keep Aurora tied up in the yard. Despite their best efforts, Aurora escaped again, this time going after a couple of sheep. Although wild wolves do not normally hunt domestic livestock, Aurora was bred in captivity and was not afraid of human scent. The state of Vermont mandated that Aurora find a new home or be euthanized, so her caring owners drove her all of the way out to Colorado and Mission:Wolf.
So, in February 2003, Aurora found a new home at our refuge and we began trying to find a suitable companion for her. After much trial and tribulation (four different potential mates did not work) and a short arrangement with a wolf-dog named Gandalf, she now lives and plays with a wolf-dog named Rogue. They can usually be found contentedly curled up together under a tree or rough-housing on the hills of their enclosure. Aurora has grown into a beautiful wolf-dog with the softest fur I have ever felt. With a smile on her face and a happy-go-luck disposition, Aurora is slowly learning not to be afraid of new staff.
---
March 1, 2010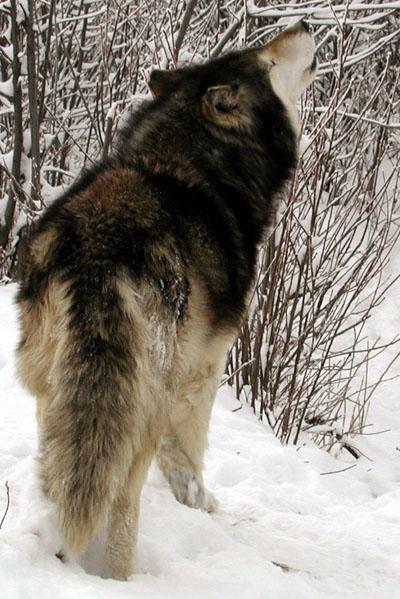 Rogue
Rogue is a very large wolf/ malamute cross that came to Mission:Wolf as a puppy in 1995. He had been purchased to be a companion for a small boy. When Rogue grew to be three times the size of the boy within a few months, his owners realized the mistake they had made. There was no way around it – Rogue was going to be a handful and could not live with their boy. The owners found out about Mission:Wolf and drove up to the refuge with Rogue. Upon arriving at the refuge the owners said that if we didn't take Rogue they were going to set him free in the area. In frustration and exasperation, we took Rogue in and vowed to give this energetic and unpredictable guy a happy life.
Sadly, Rogue ended up spending much of his life living alone. He was so strong, overwhelming and power hungry that he couldn't live with any of the other wolves or wolf-dogs at the refuge. Left to his own devices, Rogue continued to develop his rambunctious character and a penchant for causing trouble. His favorite hobby quickly became tearing his metal water tubs off the fence, crushing them with his massive jaws and burying them throughout his enclosure.
Thankfully, a young female wolf-dog named Saidee arrived at the refuge in 2002 and was willing to take on the formidable task of getting to know Rogue. Her playful and sweet personality quickly won Rogue over and actually helped him start to calm down. He was still known for howl-barking at anyone who came close, but his water tubs started to last a little longer. Later that same year, Rogue lost his right eye to a severe case of glaucoma. He has fully recovered and doesn't seem to miss his one blue eye except when he tries to catch meat at feeding time.
Over the next couple of years, Saidee grew up to be a happy-go-lucky dog who just wanted to hang out with people. We soon realized that she was a malamute who had been misrepresented as a wolf-dog so the owner could get more money for her. Saidee moved up to the staff kitchen to be trained and re-homed, while we introduced a new, three-legged wolf-dog female named Aurora to Rogue. Aurora's bouncy personality won Rogue over almost instantly. In the past five years Rogue and Aurora have grown very close. Even at the ancient age of 14, Rogue still gallops up and down the steep hills in his enclosure every morning at feeding time, howl-barking right along with Aurora.
For more information about wolf-dogs, please visit the wolf-dog section of this site.