The Weekly Wolf
I spent six years living with the wolves of Mission:Wolf.
Each Monday, this page will feature a new photograph and story of these wolves.
---
August 30, 2010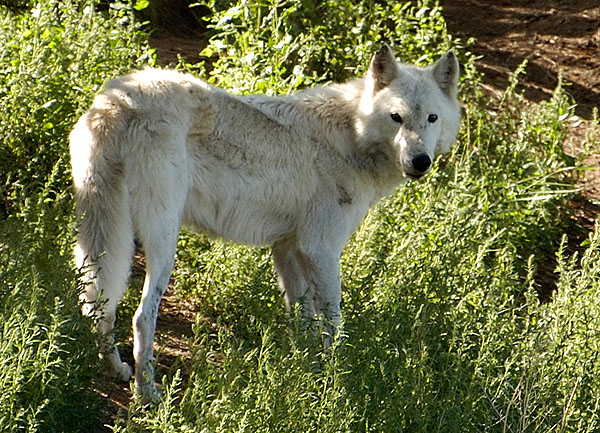 Keechee
Keechee is a female arctic wolf who was born in 1998. She and her sister, Sasha, were only a few months old when they were sold to a woman who was crazy about wolves. She bonded really strongly with them, but the sisters were terrified of her husband. For this reason, they were kept in a small shed in the back yard for nearly ten years. While the woman loved Keechee and Sasha, she just didn't understand that they needed more space.
When the woman passed away, her husband was left to care for the wolves by himself. He couldn't get close without the sisters panicking and crashing into the sides of the shed. The husband knew that this was a bad situation and contacted the local veterinarian about euthanizing them. The vet suggested that he take a little more time before making such a permanent move and look for a wolf refuge that could take Keechee and Sasha.
He found Mission:Wolf's website and contacted us about his problem. Since we had so many older male wolves living on their own at the refuge, we jumped at the prospect of taking in two females. Three of our staff drove the seven hours out to Keechee and Sasha's home to pick them up. When they arrived, they were amazed by how terrified the wolves were of all humans. They brought two kennels into the shed, hoping to catch the sisters without having to sedate them. Sasha thankfully ran into one of the kennels, looking for shelter, and they were able to just close the door. Keechee, however, was a different story. She ran around and bounced off the walls of the shed so quickly, that our staff had to use a dart gun loaded with tranquilizers to catch her.
After a couple months spent acclimating to the refuge, the sisters began slowly warming up to staff. They even started coming up to the fence when someone walked by, looking for food. In the two and a half years she's spent at Mission:Wolf, Keechee has experienced extreme highs and lows… she has come out of her shell and learned to trust a few people, but has had to endure the loss of her sister and two subsequent mates to old age. Thankfully Keechee has proven to be very resilient and has bounced back after each bout of loneliness. She's now living fence-to-fence with a feisty male wolf-dog named Nokona. We're hopeful that they will accept each other and Nokona will give Keechee the companionship she needs.
---
August 23, 2010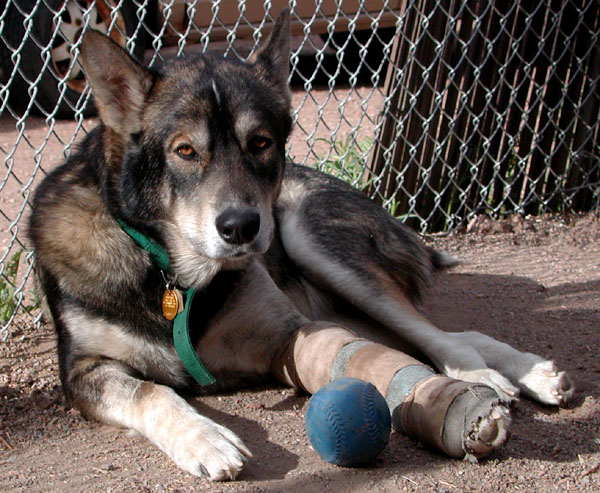 Bradley
In late April, 2006, Mission:Wolf received a call from the Denver Dumb Friend's League. They had just taken in Bradley, a large male dog that many of their staff suspected was part wolf. We were currently looking for a suitable companion our Ambassador Wolf Maggie, so the wolf bus stopped by the shelter to meet Bradley on its way home from the Spring Tour. When Maggie met Bradley, she was completely unimpressed… she just ignored him and walked right on by without a second look. So, Bradley wasn't going to work out as a traveling companion for Maggie, but we agreed to take him in the hopes that he would work out with one of our other lonely, single wolves.
Before Bradley even made it to Mission:Wolf, he proved to be a trouble-maker. He managed to escape from a closed kennel, inside a locked house while waiting to be transported to the refuge. We never did discover all of the details of Bradley's free-running adventure in Colorado Springs. He was finally found two days later at a local vet's office, having been hit by a car and suffering from a broken leg and multiple skin abrasions.
When he arrived at the refuge at last, Bradley was in a sorry state. He spent the next month living on the couch in the staff kitchen, soaking up pity and affection. The more time we spent with him, the more we began to question his wolf heritage. Bradley wagged his tail at everyone, sat on command, and put up with us changing his bandages every morning and evening… all things a wolf would never consider doing. We quickly learned that this huge Akita cross had a soft spot for carrots, ear rubs and a Siberian husky named Kona. All of this added up to Bradley being a big dog who looked a bit wolfy, but was probably just a mistreated and misunderstood Akita/ malamute/ shepherd cross dog.
Bradley spent a couple of months living in the kitchen with the staff and Kona while we worked to convince him to be a well-mannered dog. A good friend of Mission:Wolf adopted Bradley, and he now lives with Saidee (another mislabeled dog who came through Mission:Wolf) and an Airedale mix named Chloe.
---
August 16, 2010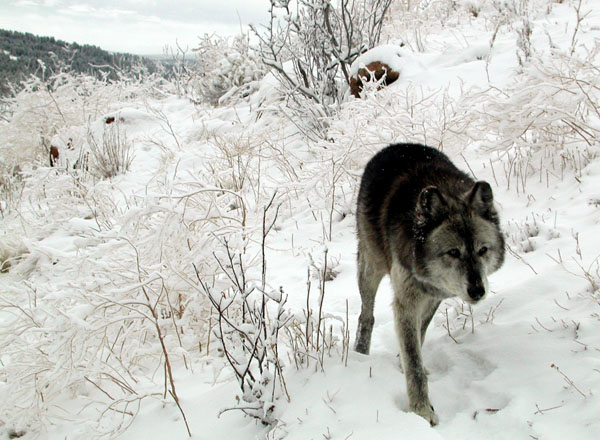 Tierra
Tierra del Fuego was a small, hot blooded female wolf named after Chile and Argentina's "Land of Fire." She was born in the spring of 1993 after one of Mission:Wolf's male wolves broke into the females' enclosure during breeding season. Tierra and her two sisters, Whisper and Asha, inherited their mother's wild, expressive eyes and fiery personality.
As a puppy Tierra was so outgoing around people that she loved traveling with the Ambassador Wolf program. However, after only a year on the wolf bus, she started getting nervous around strangers and she retired from traveling. Safely back at the refuge, Tierra joined one of Mission:Wolf's largest packs, commonly known as the "Driveway Five." Beorn was the benevolent alpha male, Kawh was the brawny beta male, Skinny was the sweet omega male, Porini was the middling male that tried to stay on everyone's good side, and Tierra was the spirited female who kept them all in line. This arrangement worked for years, with Tierra enjoying the attentions of all four boys.
In the winter of 2002, Kawh ousted Beorn from the pack and became the alpha male. The other boys in the pack were not happy with this arrangement. Kawh spent his days chasing Porini and Skinny up and down the enclosure to keep them away from Tierra. Tierra, always the tease, flirted with all three boys. Kawh's dominance displays got so out of control that Skinny and Porini stood up for themselves, joined forces and fought back. We had to step in and separate them before any of them were seriously hurt. We tried to place Kawh and Tierra one side of the division fence and Porini and Skinny on the other. However, Tierra had very different ideas about what her living arrangements should be. Her small size and light weight allowed Tierra to climb trees and the division fence whenever she wanted to spend time with all three boys.
Things eventually calmed down for Tierra when Porini passed away and Skinny found a new girlfriend and a new enclosure. Without the distracting influence of other males, Tierra and Kawh grew into the most loving couple at the refuge, nuzzling each other and walking side by side all year long. Even in her old age Tierra retained her passionate nature. She'd run up to the fence if she saw any of her human friends and shower them with lightening-quick licks. Sadly, she passed away from old age in April 2009. I will always miss my little T-bird.
---
August 9, 2010
Abraham
Better known as "Abe," this little wolf-dog was found as a pup in 2007, running loose on the streets of Salt Lake City. When the shelter staff got a good look at him, they all shook their heads. Abe's long legs, big head, narrow chest and amber colored eyes were all classic wolf characteristics. By law, the shelter could not adopt him out once Abe was identified as a wolf-dog, so he was to be euthanized.
At the very last minute Abe was saved by a friend of Mission:Wolf, and he was soon on his way to the refuge. Surprisingly, Abe was very gregarious, happy and social when he arrived. We don't know where he came from but, at four months old, Abe already loved to meet refuge visitors. It was an interesting contrast to have Abe here at the same time that two other wolf pups we had rescued were fear barking from the back of their enclosure. The three pups were all the same age, but Abe was so much more outgoing than the other two that it was hard to believe they were the same species.
As Abe grew and started chewing on anything and everything in our veterinary building, we decided to introduce him to our Ambassador wolf, Maggie. She was delighted to meet such a happy pup and they hit it off immediately. When it came time for Maggie to climb onto the Ambassador bus and travel across the country, Abe followed right behind her.
Despite going through a difficult phase where he had to learn not to chew on visitors and their belongings, Abe has grown into a wonderful Ambassador. The little bit of dog in his make-up made it harder to teach him how to be a polite Ambassador because he wasn't afraid of anyone or anything. Now, as a mature three year old, Abe has become the stately (if sometimes still goofy) alpha male of the Ambassador pack, helping Maggie teach a slew of new wolf puppy recruits how to meet people.
---
August 2, 2010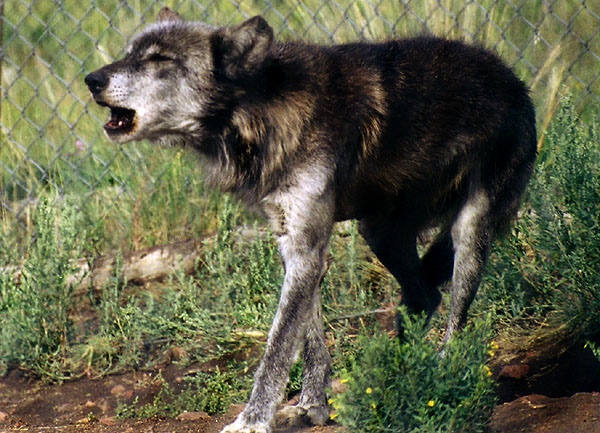 Skinwalker
Affectionately known as "Skinny", Skinwalker started out as the smallest pup in his litter of five, born in 1995. Skinny quickly grew into a huge 100 lb. black and silver wolf. Even though his size was a little intimidating, Skinny's mellow and submissive attitude always welcomed new friends into his circle.
For years, Skinny lived with three other male wolves and a female wolf named Tierra. Whenever Kawh (the beta male) got frustrated about anything, he beat up Skinny. Thankfully, the alpha male would step in and save Skinny (the omega and scapegoat of the pack) from too much abuse.
Everything changed when Kawh took over leadership of the pack and kicked out the alpha. For the first time in his life Skinny stood up for himself, joined forces with Porini (the other remaining male), and challenged Kawh during breeding season. None of the males would back down, so we ended up separating them to prevent serious injury.
Once on his own Skinny turned into a goofy puppy, laying his ears down and whining whenever anyone walked past. He was soon paired with a female wolf named Rami who had just retired from ten years as an Ambassador Wolf. At the ripe old age of 10, Skinny and Rami were ecstatic to have their first mate… it was like watching two 80 year old people find a girlfriend and boyfriend for the first time. They howled, nuzzled, bounced and cavorted together for years. We were all so happy to see meek Skinny finally become the alpha of his own pack.
Skinny hit the prime of his life in his later years. It was like he had waited so long to be an alpha that he wasn't going to let age take anything away from him. Even when his coat turned completely gray from old age, Skinny wouldn't let anthing slow him down, so it was a difficult surprise to us all when he passed away in October of 2007. Skinny will always be remembered for the joy he expressed when he finally found Rami and for his benevolence toward visitors when they came to see her.