The Weekly Wolf
I spent six years living with the wolves of Mission:Wolf.
Each Monday, this page will feature a new photograph and story of these wolves.
---
March 28, 2011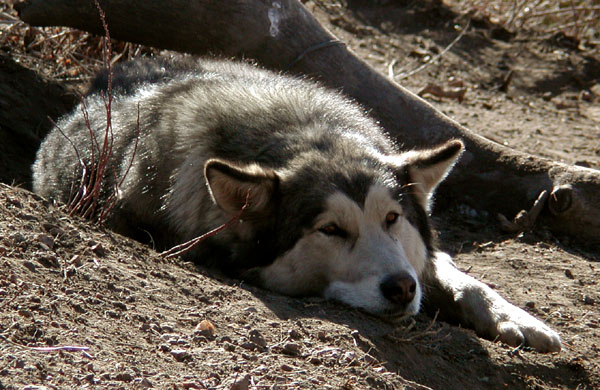 Saidee
We believe Saidee was born and first sold as a wolf-dog pet in Oregon, but her story is so convoluted and vague (like that of most wolf-dogs) that we will never know for sure. We do know that she spent the first few months of her life getting passed from one home to the next. Judging by her behavior later in life, Saidee was abused and neglected as a pup. Eventually, Saidee found her way to a Siberian husky rescue organization. Due to her shy nature and extreme fear of men, they decided that Saidee indeed a wolf-dog and, per their bylaws, destroyed. At the last moment, a kind woman convinced the organization that the pup deserved another chance and ended up bringing her home to Colorado City. At 10 months old, Saidee had finally found a home.
Saidee bonded easily with women from the beginning. She looked to the woman who had saved her for friendship and protection. The only conflict was Saidee's severe fear of the woman's husband, but even this problem began to dissipate after a few months. Everything was looking up for Saidee until the couple discovered they were pregnant. They wanted to keep Saidee, but felt it wouldn't be safe for the baby or fair to Saidee. In October 2001, the woman found Mission:Wolf and asked if we could please take in her wolf-dog.
We decided to take a chance on Saidee, on the condition that she got along with our lonely resident bachelor named Rogue. Rogue, a huge wolf-malamute cross, had spent many years alone because of his rough-and-tumble attitude. When she arrived, Rogue was overjoyed to finally have a friend and Saidee adored Rogue on sight. Saidee was initially frightened of the refuge staff, but Rogue soon taught her how to be brave in the face of human company.
For three years, Saidee and Rogue lived in peace and happiness. The more time that we spent with Saidee, the more we suspected that she didn't have much wolf in her. She would spend hours pressed up against the fence begging for attention. Despite Rogue's protests, she was overjoyed when she was allowed inside the house to play with the staff. As she grew up, Saidee looked more and more like a pure-bred malamute (curly tail, yodeling voice and all). Although we will never really know where she came from, we now believe that Saidee is a case of mistaken identity. She was just a misunderstood and abused malamute puppy that wasn't given a chance to grow up into the dog she could have become.
To start the process of convincing Saidee that she is indeed a dog, not a wolf or wolf-dog, she has moved away from Mission:Wolf and found a loving home with one of our old staff members. She loves the extra attention from her new human companions and seems to be content living life as a malamute, rather than a wolf.
---
March 21, 2011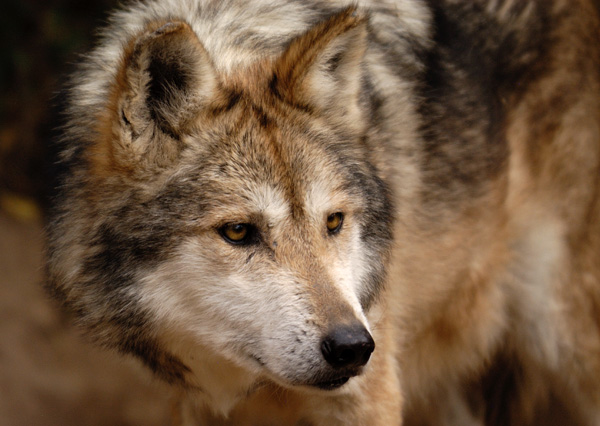 Mexican Gray Wolf
The smallest of the gray wolf subspecies, the Mexican wolf originally inhabited Arizona, New Mexico, Texas and northern Mexico. During a century of wolf persecution, two of the three subspecies known as Mexican wolves, Canis lupus monstrabilis and C.l. mogollonensis, disappeared. Only scant remnants of C.l. baileyi remained in the wilds of Mexico in the 1970's. The once populous Mexican gray wolf is now recognized as one of the most endangered land mammals in the world.
By 1980 the last known wild Mexican gray wolves (four males and one pregnant female) were caught in Mexico to start a captive breeding program. From the original five animals, the captive population grew to 107 wolves by 1995. In 1996 a plan was approved to reintroduce some of these Mexican gray wolves to the Blue Range Recovery area of New Mexico and Arizona.
In the winter of 1998, three family groups of 11 Mexican wolves were released into the Apache National Forest of Arizona. Of these 11 wolves, only two survived the year in the wild – four were illegally shot, one was killed while attacking a family's dog, three were recaptured and one is missing and presumed dead. Many people accused local ranchers of the killings, however evidence of a conspiracy was never revealed. The controversy actually served to increase local support of the reintroduction efforts, spurred on by the ranchers' pride and sense of protection for the wolves from outside threats.
Despite the dismal first year, the Mexican wolf recovery team has continued to release wolves into the Blue Range and Gila National Forest. Since then, the project has met with numerous difficulties and has had to recapture many wolves. However, scientists counted 50 Mexican gray wolves in the wild this winter – a huge success considering all the obstacles they have faced over the past 30 years.
---
March 14, 2011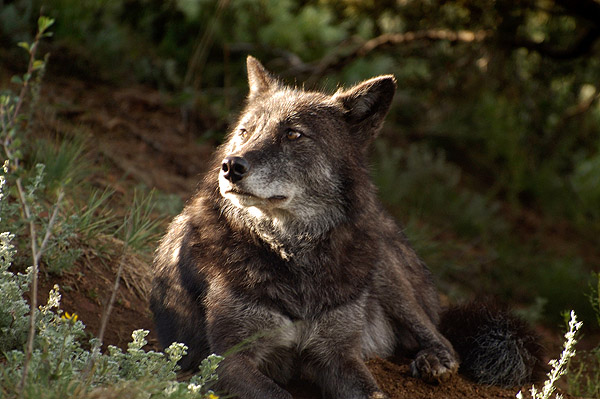 Orion
Orion is a black male wolf who was born in the spring of 2005 in Tennessee. He comes from a long-time breeder and a line of pure wolves bred in captivity. Orion was terrified of humans from birth and continued to become more afraid as he aged. When only a few months old, he was sold to a lady in Vermont and lived with other wolf-dogs in a giant pen in her back yard. Due to his skittish and wolfy behavior, Orion's owner realized that she would not be able to socialize him and keep him with her other "pets." Friends of Mission:Wolf rescued Orion, paid for his flight across the country and accompanied him from Vermont to Denver. Our staff drove to Denver, picked him up and brought him to Mission:Wolf. He was named Orion by staff members for the star constellation at was overhead when he arrived.
In the months that followed, Orion continued to be very frightened of humans. He lived in our vet building with another recently rescued wolf puppy named Soleil. They became fast friends have been inseparable ever since. As they grew, Orion and Soleil became very independent and kicked their surrogate dog mother, Kona, out of the pack. We tried splitting the two pups up and introducing them to older wolves for guidance and socialization, but Orion and Soleil would have none of it. They revolted against the older wolves and insisted they be put back together. Since then, Orion and Soleil have essentially raised themselves – looking to each other for the courage to meet visitors.
Now nearly five years old, Orion has grown into a stunning black adult with an intense gaze and a seemingly serious demeanor. But, when he doesn't think we're watching, Orion will twirl, pounce and tumble with Soleil and reveal his clownish side. Although he is still nervous around people, he occasionally works up the nerve to sniff someone on the toe. The fact that he allows people to be around him at all is exciting!
---
March 7, 2011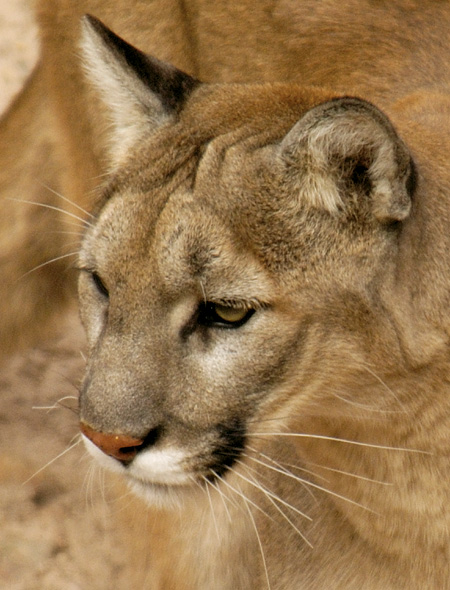 Cougar
I have recently added a section to Gray Wolf Conservation that features information and photos of the world's wild cats. I feel that it is important to highlight other species on this website because it adds an ecological context to gray wolves and because the fate of one species is connected to the success of all species on our small world. For information about cougars and other big cats, please visit the new section of Gray Wolf Conservation at: Big Cat Conservation.