Wolf-Dog Rescue Organizations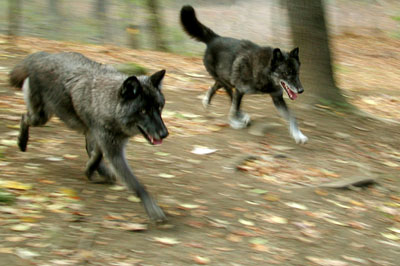 Once you have made the decision to give up your wolf-dog pet, it can be difficult to find a suitable place for them to go. Most rescue organizations are full past capacity. However, every now and again, a space will open up. Most of these spaces are dependant upon your animal getting along well with its new keepers and potential companions, as well as being able to adjust to a new living situation. Many organizations will only be able to take in your animal if some kind of financial assistance is provided to care for it. The math is simple... 500,000 wolf-dogs and only room for a few hundred.
To increase your chances of finding a new home for your wolf-dog:
Contact many organizations... but only those fully qualified to care for such an animal.

Be fully forthcoming about your situation and any details about your wolf-dog.

Be willing to provide transportation for your wolf-dog and stay until both the animal and new caretakers are comfortable.

Be prepared to take your wolf-dog back home with you if the new situation doesn't work out.

Keep in contact with the rescue even after your wolf-dog is settled to make sure there are no complications.

Follow the wishes of the new caretakers on your future visits... a reunion with you can be exhilarating for your wolf-dog, but the consequential depression after you leave can be devastating.
With all of this in mind, here is the contact information for a few rescue organizations that may be able to help. Please, remember all of these people want nothing more to help you, but there is only so much they can do. It is quite possible that the only thing they will be able to do is offer you some hard advice (as hard for them to give as it is for you to receive) - we are completely full, if you cannot properly care for the animal yourself or find someone else who can, euthanasia is the responsible alternative. Good luck and please let others know of the troubles you have run into with wolf-dogs... education is the only way we can stop this from happening to more people and animals.
Here is a very incomplete list of wolf sanctuaries that either rescue wolves and wolf-dogs, or can refer you to other sanctuaries that may have openings:
Wild Spirit Wolf Sanctuary
Location: Ramah, NM
Email: info@wildspiritwolfsanctuary.org
Phone: 505-775-3304
Colorado Wolf & Wildlife Center
Location: Divide, CO
Email: info@wolfeducation.org
Phone: 719-687-9742
W.O.L.F.
Location: Laporte, CO
Email: fwendland@wolfsanctuary.net
Phone: 970-416-9531
Mission:Wolf
Location: Westcliffe, CO
Email: info@missionwolf.com
Phone: (719)859-2157
Wolf Hollow
Location: Ipswich, MA
Email: info@wolfhollowipswich.org
Phone: 978-356-0216
White Wolf Sanctuary
Location: Tidewater, OR
Email: info@whitewolfsanctuary.com
Phone: 541-528-3588
*only takes in pure arctic wolves
Wolf Haven International
Location: Tenino, WA
Email: info@wolfhaven.org
Phone: 800-448-9653