Annie B. White
Wildlife Biologist, Photogarpher, Dog Trainer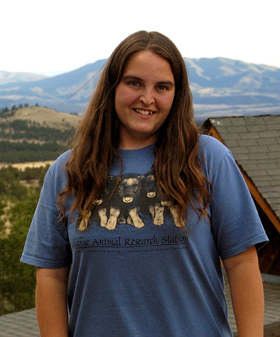 I attended the University of Colorado and earned a Magnum cum Laude Bachelor's degree in Environmental, Population and Organismic Biology. During my studies in Boulder, I focused on animal behavior, doing original research and writing a thesis on wolf behavior. I spent two summers studying wild wolves in Yellowstone National Park and three winters observing captive wolf behavior at Mission:Wolf. I also directed CU Sinapu, a student and community organization that works to protect native carnivores and their habitat in the Southern Rocky Mountain ecosystem.
I first learned of Mission:Wolf (a captive wolf sanctuary and education center in Southern Colorado) in 1999, when their Ambassador Wolf Program visited CU. Rami, an extremely outgoing wolf, walked into the room, wandered around a bit, and picked me out of the audience of 200 to greet. I was hooked. After graduating from CU I moved to Mission:Wolf and worked as their wildlife biologist, education director and wolf caretaker for six years. I was responsible for the health, safety and nutrition of the 40 wolves and wolf-dogs at the refuge. When not out with the wolves, I gave tours to visitors, wrote and published Mission:Wolf's educational materials, and served as a behavioral consultant on wolf and dog behavior for owners and other captive wolf facilities.
I traveled with Mission:Wolf's Ambassador Wolf Program for two years, brining the boldest wolves into classrooms and museums across the country to meet over 45,000 people. I handled the wolves during exercise runs and presentations, learning how to adapt different dog and horse training techniques for use with wolves and how to hold the attention of large audiences while speaking about animal behavior and conservation biology.
Since 2006 I have worked as a dog trainer in Seattle, WA. I was able to take the experience I gained with shy, skittish and untrained animals at Mission:Wolf and use it to help pet dogs. Working with the dogs on a daily basis has been extremely rewarding and I have learned that the true key to providing an animal with a healthy and fulfilled life is to communicate effectively with their owner.
Even though I love being around dogs, I still want and need to be involved in wildlife conservation. So, I started the Gray Wolf Conservation website in 2009 to serve as a resource center for anyone interested in wolves. In my spare time I am also working on a website dedicated to other endangered species.
This year, I am starting Montana State University's MFA program in Science and Natural History Filmmaking. Over the next three years I will be learning how to use my love of animals and understanding of their behavior to make entertaining and educational nature documentary films. In my 30-odd years, I've played with lynx kittens, taken a walk with a tiger, fed giraffes and elephants, come face to face with a wild stallion, petted a black leopard cub, had a badger climb into my lap, made friends with a barn owl, spotted two wild wolverines, faced down an unhappy bison, wrangled 70 dogs at once, watched an orca swim right under my boat, and lived with 64 wolves. I'm hoping that amazing experiences like these keep coming into my life, and can serve as inspiration for my work. Ultimately, I want to spend my life in the company of animals, adding to our understanding of their behavior and sharing what I learn with others.