Welcome to Gray Wolf Conservation
This website serves as an educational center about gray wolves and the many issues surrounding them. Look up the most recent news on wolves. Find information on the history and recovery of wild wolves across the US. Learn about the trophic cascade - new studies are beginning to reveal the balancing effect wild wolves have on their ecosystem. Do wolves or wolf-dogs make good pets? Find out where to meet captive wolves or see them in the wild.

If you would like your wolf information added to this website, please contact Annie B. White.
The Seasons of Little Wolf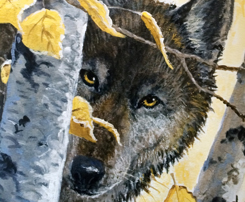 If you're looking for a present for a special child on your holiday list, take a look at The Season of Little Wolf. It's a beautiful new children's book that follows the first year in the life of a wolf pup. London's story teaches us what it's like to grow up as part of a wolf pack in the wild, while Van Zyle's gorgeous paintings bring the the eyes of the wolves and the soul of the story to life. It isn't often that I run across a children's book that so fully embraces the truthes of wolf biology.