The Weekly Wolf
I spent six years living with the wolves of Mission:Wolf.
Each Monday, this page will feature a new photograph and story of these wolves.
---
May 31, 2010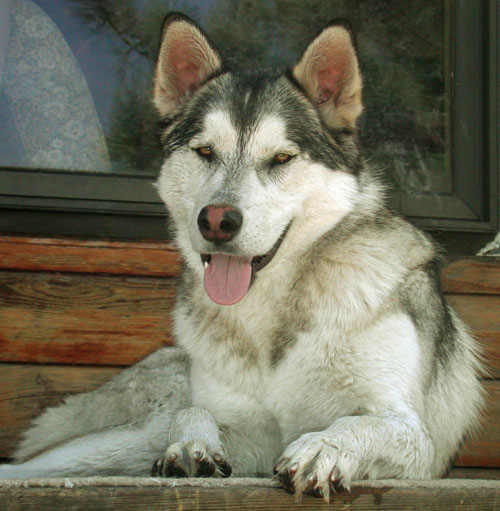 Leo
Leo was born in the spring of 2005. He was kept as a pet in a house outside of Denver until his leg was badly broken. His owner could not afford the $5,000 bill to have the bone surgically repaired, so she took Leo to an animal shelter and surrendered him. The Denver "Dumb Friends League" and an area veterinarian worked together to donate the time and money for Leo's surgery. While he started to recover from the surgery and regain his energy, the shelter staff questioned whether Leo really was just a malamute mix, or if he had some wolf ancestry somewhere along the line. Once anyone mentioned the word "wolf" the shelter could not legally adopt Leo out to a private home because of liability issues. Thankfully Leo's loveable personality had won everyone over so much that the staff went searching for a wolf sanctuary that could take him in… that's when we first heard about him.
A few of Mission:Wolf-ers visited Leo at the shelter and found him with his leg still in a splint. Everyone was a little confused by this big guy - Leo displayed several wolf-like characteristics (extremely long legs, a narrow chest and slanted forehead) but he acted like a dog puppy. The shelter revealed that Leo had passed their behavior test and was a very pleasant animal, but that they would have to euthanize him if we didn't take him. We agreed to rescue Leo from his fate in the hopes that he would be a good match for another wolf-dog at Mission:Wolf named Luna.
When only eight months old, Leo arrived at Mission:Wolf. He hobbled around on three good legs while holding his injured leg up and still managed to reach the kitchen countertop and steal dinner on more than one occasion. His boisterous personality and happy-go-lucky attitude toward life won everyone over instantly. Luna found him irresistible.
In the four years since his arrival at the refuge Leo has recovered full use of his leg and happily gallops through his enclosure with Luna. The two wolf-dogs now live at the Mission:Wolf farm, keeping a close eye on the resident chickens. Thanks to the Denver "Dumb Friends League," their veterinarian and Tracy's loving care, Leo will spend the rest of his life roughhousing and playing in the sun with Luna.
---
May 24, 2010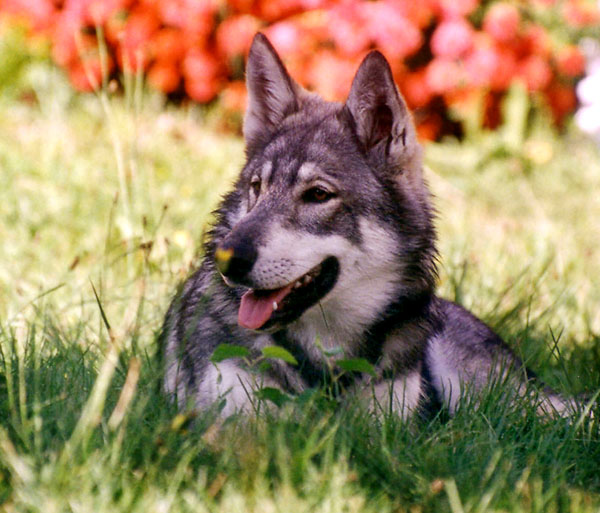 Luna
Born in a cage in Texas, Luna was sold as an endangered Mexican Gray Wolf for $500 at only 10 days of age. The trucker who bought her brought her home to Chicago. At a party, a concerned guest found baby Luna hiding in the bathtub. She paid the trucker, rescued the puppy and called Mission:Wolf. After a week of chaos, plans, and car repairs, two Mission:Wolf staff members headed east to pick up the puppy. When she arrived at the refuge in June of 2002, Luna was malnourished and small for her age. She spent the summer being hand-raised by the refuge staff. Luna quickly became the princess of the refuge, as she was the first puppy that Mission:Wolf had accepted in seven years.
Since Luna had such little contact with other canines as a pup, she was intimidated when she was first introduced to an adult wolf named Rami and two other pups named Maggie and Raven. However, she soon adjusted and thoroughly enjoyed her time with her wolf companions. As Luna matured into a yearling, it became apparent that her breeder had lied... Luna is, in fact, a husky that barks rather than howls.
Luna, Raven, and Magpie joined Rami as Ambassador Wolves and helped to educate the public about the differences between wolves and dogs. Over the year Luna spent as an Ambassador Wolf she met over 30,000 people. However, just as the 2003 fall Ambassador Wolf Tour was about to leave, Luna was kicked out of the pack for her dog-like behavior. While Rami, Raven and Magpie traveled the country, Luna settled in to life at the refuge. She now spends her days playing with her mate Leo in their secluded enclosure.
---
May 17, 2010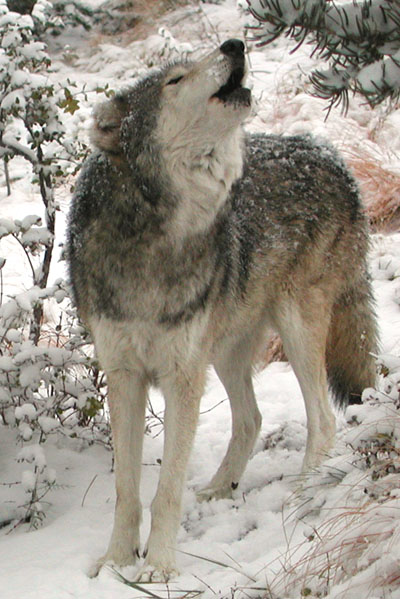 Katimik
Katimik was born in Idaho, and spent her first seven years living at the Wolf and Grizzly Discovery Center in West Yellowstone, Montana. There, she lived as a part of the Gallatin pack until June of 2003 when she and another female named Selway were separated due to conflicts with the other wolves. The Discovery Center did not have an enclosure for the girls, so Mission:Wolf agreed to take them in.
Lucky girl that she was, Katimik was introduced to two handsome bachelor male wolves named Ned and Druid. As she settled in and bonded with the boys, she howled her delight out over the refuge. We expected Ned, the alpha, to take Katimik as his mate, but she actually bonded more closely with Druid and ignored all of Ned's advances. She and Druid became quite the team – sleeping close together, ganging up together to steal Ned's food, and occasionally playing in the snow together.
Katimik was very shy of visitors, choosing to watch them from atop her shelter while the boys came down for a closer look. After a couple of years at the refuge, she did slowly become more curious about the staff and even sniffed a few of us through the fence. Katimik grew to be the refuge's biggest gossip, constantly howling back and forth with Selway and letting everyone know what was going on. Interestingly, the tone and pitch of the two Idaho wolves never completely fit in with the rest of the Mission:Wolf wolves. It was easy to pick their distinctive voices out of the crowd.
After Katimik unexpectedly passed away in 2007 from a brain tumor, Ned and Druid started to bicker more and had to be separated. Thankfully, Druid found a new female companion to keep him company in his old age while Ned finally got to keep all of the attention from the staff to himself. Even though everyone, wolves and humans alike, were forced to move on after Katimik's passing, we will always miss her kind disposition and happy smile.
---
May 10, 2010
Rasta
Rasta was a reserved and dignified black timber wolf who was born in April of 1993 to Nikkolah and "Granny" Raven, two Mission:Wolf residents. Nikkolah managed to climb to the top of the fence separating him from the females and jumped over to mate with "Granny" Raven.
Rasta lived the first three years of his life in an enclosure with his parents and a few other young wolves. However, Rasta and a female wolf, Asha, paired up and started to cause problems within the pack. After much consideration, staff decided to move the pair to their own enclosure where they spent the rest of their lives together.
Though very shy around strangers, Rasta bonded strongly with his caretakers. Whenever we tried to give him one-on-one attention, little Asha would rush over and push him out of the way. These two wolves also loved to sneak up on volunteers as they were walking down our lower path and try to catch them off guard… they thought it was great fun when someone jumped out of surprise.
While Rasta's siblings (Rami, Nyati, Obediah, and Aspen) turned silver and light brown as the years went on, his coat remained stark black. Because of his youthful good looks and his propensity to cause a little playful mischief, we always thought of him as the perpetual teenager. So, when Rasta passed away on October 3, 2007, it was met with disbelief. In the months since his passing, the staff has started to accept his absence from the refuge, but his low, baritone howl will always be missed.
---
May 3, 2010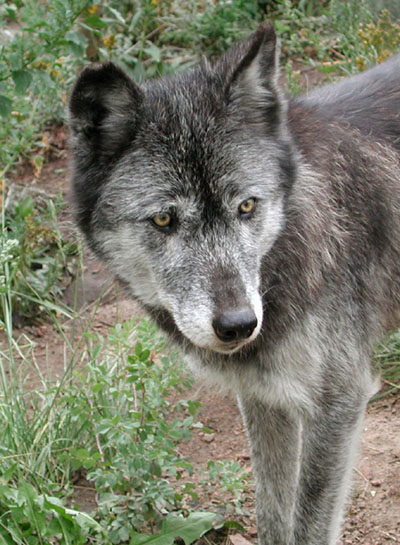 Asha
Asha was a black and silver colored female wolf, born in the spring of 1993. She grew up in a large pack of wolves known as the "action pack" next to the refuge's visitor's center. As Asha matured into a rambunctious teenager, she quickly turned into the pack's troublemaker and tried to take over the alpha female position. Once we realized what she was up to, we separated her from the pack and gave Asha and a male wolf named Rasta, another mischief-maker, their own enclosure.
Asha was outgoing around all those who raised her, but remained rather shy around strangers. Her pale yellow eyes warily followed anyone who walked down the path next to her enclosure. Asha was very sweet tempered, although she did appreciate the occasional water hose tug-of-war if the staff wasn't paying close enough attention. Another one of her favorite past-times was to swim through deep, fresh snow. Whenever the refuge was buried under snow banks and the staff was working extra hard just to feed the wolves, we would look up to see Asha dog-paddling through the powder.
Known as one of the gentlest wolves as the refuge, Asha quickly became friends with any of the staff who lived in one of the lower huts. During morning walk-around, Asha hung back behind a tree or bush until she discovered who it was. Then, if it was one of Asha's friends, she would rush up to the fence, shove Rasta out of the way, and press up against the fence for some attention.
Asha passed away on June 17, 2007. While she has probably moved on to another life and adventure somewhere, we will always remember her wild, yellow eyes, gentle spirit and enthusiastic licks.